ShipCanada.ca prepares U.S. and Canadian customers for the "unexpected" as Canada prepares to host leaders from around the world in what is expected to be the highest security G-20 summit on record.
Toronto, ON June 24, 2010 -- ShipCanada.ca, a leading 3rd party logistics company based in Ontario, Canada, is preparing U.S. and Canadian customers for what may become a logistical challenge as Toronto prepares to host the upcoming G-20 summit.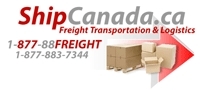 The G20 (short for Group of Twenty) was established in 1999 where leaders from the G20 countries meet regularly to discuss key issues in the global economy. This year, Canadian Prime Minister Stephen Harper will host the high profile event, which will see unprecedented security measures in place for the world leaders.
In preparation for the summit, the city of Toronto, Ontario, has already initiated city wide security measures with parts of the city divided by security barriers. As a result many businesses, including banks, have elected to keep workers home. ShipCanada.ca, is also planning alternate routes for freight shipping to western Canada as the G-8 (another high profile forum), which takes place on June 25-26 in Hunstsville, ON, may see road closures which will impact northern and westbound trucking routes. The meetings which will take place at the Deerhurst Resort in Hunstville, ON will be the fifth G8 Summit hosted by Canada since 1976.
ShipCanada.ca, a division of Equitrans Express International Inc., (one of Canada's 50 fastest growing companies according to Profit Magazine's 2007 annual ranking), is a full service logistics company which focuses on cross-border
trucking services
for U.S. and Canadian companies. There are some positive aspects to hosting the summit according to Brandon Rowland, Shipcanada.ca Vice President: "While road closures and increased security represent a challenge, we hope the event ultimately enhances Canada's international trade profile."
ShipCanada.ca has also advised
trucking companies
in its network that all inbound Canadian shipments should be customs cleared well in advance before arrival at the border as customs staff may also be dealing with increased workloads.